Product of the Month –  February 2020
Mineral makeup is a modern-day miracle


We have discovered an all-natural makeup line. Prices vary from $5-$10 with most products costing only $5 each. Come check out the variety of colors and products we have! No chemicals or GMO's.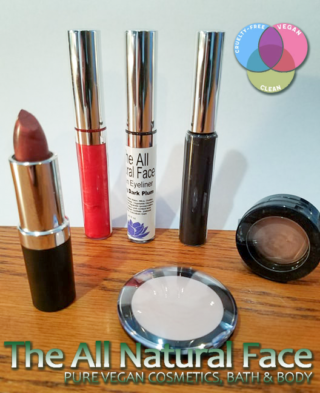 COMPANY'S MISSION: To provide you with the best mineral cosmetics possible. We do not use any artificial ingredients. No bismuth, no talc, no carmine, no silk powder, no D & C Lake colors, and no parabens! Just pure and simple ingredients from the earth, including USDA-certified Organic Ingredients where applicable!
"We live in a toxic world.  For many years people have been switching to cleaner, healthier lifestyles.  The focus has been on healthy eating. Now people are starting to realize just how much chemical junk is in the stuff they use on their bodies and in their homes.  A new awareness is starting to take place.  If you try so hard to keep healthy non-chemical things OUT of your body…why on earth would you put them ON your body?  The average woman puts over 100 chemicals on her body before breakfast.  Our bodies absorb 65% of the stuff we put on it!  There is a new awareness that not everything on the shelf is good for you." – The All Natural Face 
---
HEALTH, NATURALLY'S PRODUCTS FOR SALE

As a Nature Sunshine Independent distributor of Nature Sunshine Products, we offer the highest quality herbal supplements, vitamins, minerals, and nutritional supplements.
To Become a Member
Click this link or Nature's Sunshine logo above to visit the site.
Add $40 or more of product to your cart.  (To become a member, you will have to buy $40 in products at member cost.)
Need to increase your order to $40?
Browse our Weekly Specials, or try our online Health Assessment.
Continue to Checkout.
Click the "Sign up" button in the "Become a Member" box during checkout.
Complete the Checkout process.
Membership Benefits
Save up to 33% off Non-Member price
Get access to promotions and product discounts
Free health education (webinars, local workshops)

Health Naturally is an independent distributor for Young Living. We are dedicated to educating the public about the versatile uses and profound effects essential oils have on the mind and body. Click this link or the Young Living logo to visit the site.
Once on the Young Living site, go here to become a member. Select Member or Retail Customer depending upon which plan you prefer. The "Member" plan requires the purchase of a starter kit with your first order and provides a 24% discount on all products ordered. Members can participate in the essential rewards plan and earn member discounts. 
If you select the Member plan, follow the steps provided.
The Retail Customer plan provides full retail pricing to customers. 

To sign up and purchase as a Retail Customer, shop the

product catalog

and check out via the shopping cart.