---
Product of the Month – January 2020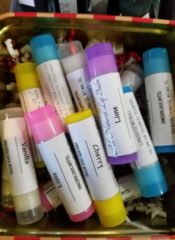 Katie's lip balms are the January Product of the Month. They are $2.50 each or 2 for $4.00. Prevention of lip issues is a great idea at this low of a price! There are many different flavors to choose from.
---
HEALTH, NATURALLY'S PRODUCTS FOR SALE

As a Nature Sunshine Independent distributor of Nature Sunshine Products, we offer the highest quality herbal supplements, vitamins, minerals, and nutritional supplements.
To Become a Member
Click this link or Nature's Sunshine logo above to visit the site.
Add $40 or more of product to your cart.  (To become a member, you will have to buy $40 in products at member cost.)
Need to increase your order to $40?
Browse our Weekly Specials, or try our online Health Assessment.
Continue to Checkout.
Click the "Sign up" button in the "Become a Member" box during checkout.
Complete the Checkout process.
Membership Benefits
Save up to 33% off Non-Member price
Get access to promotions and product discounts
Free health education (webinars, local workshops)

Health Naturally is an independent distributor for Young Living. We are dedicated to educating the public about the versatile uses and profound effects essential oils have on the mind and body. Click this link or the Young Living logo to visit the site.
Once on the Young Living site, go here to become a member. Select Member or Retail Customer depending upon which plan you prefer. The "Member" plan requires the purchase of a starter kit with your first order and provides a 24% discount on all products ordered. Members can participate in the essential rewards plan and earn member discounts. 
If you select the Member plan, follow the steps provided.
The Retail Customer plan provides full retail pricing to customers. 

To sign up and purchase as a Retail Customer, shop the

product catalog

and check out via the shopping cart.