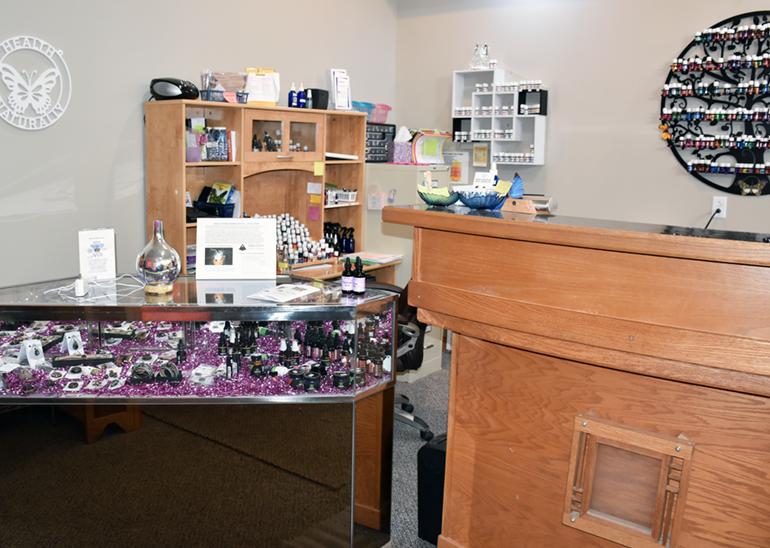 ---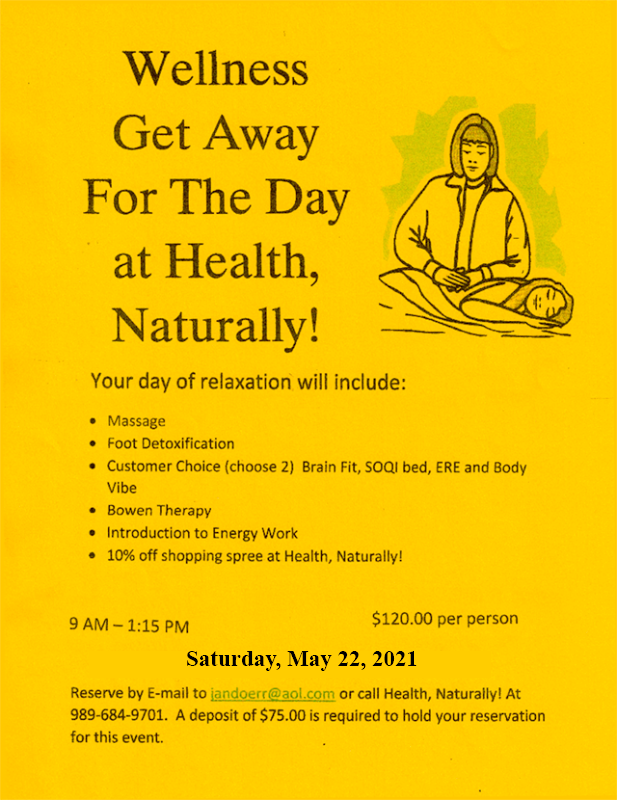 WELLNESS GETAWAY FOR THE DAY
Call us at 989-684-9701 to sign up for the Get Away For Spring!! !Our first one was so successful we filled all our days! We're now adding one additional day and have 4 openings for Saturday, May 22nd.
Your fun-filled day will start at 9 AM and conclude at 1:30 PM. You will receive a massage, foot detoxification, a custom perfume made with medicinal quality essential oils, an hour in the therapy room where you can pick 2 of your favorites, and an introduction to Energy Work with crystals. To top it off, you will receive 10% off shopping in our newly remodeled store. Make a commitment to your own health, sign up for Getaway. Everyone welcome!
---
May Product of the Month – Bee Pollen

According to The Comprehensive Guide to Nature's Sunshine Products, "Bee Pollen contains every known nutrient in trace amounts, which is why some have dubbed it nature's most complete food. It contains all 22 amino acids and has the highest amino acid content of any known food.


Highly energizing, it is used to improve energy, stamina, and endurance. It combines will with spirulina and licorice and helps to stabilize blood sugar levels. Bee Pollen is also an aid for the pituitary and for balancing reversed polarity in muscle testing."
Because it has boron in it, this is also a great supplement to prevent illness right now!
---
Hours of Operation
Monday-Thursday 1-5
Friday and Saturday 9-5
IN HONOR OF MEMORIAL DAY
We will be closed Monday, May 31st.
We will reopen on Tuesday, June 1st.
---
HEALTH, NATURALLY'S PRODUCTS FOR SALE
---

As a Nature Sunshine Independent distributor of Nature Sunshine Products, we offer the highest quality herbal supplements, vitamins, minerals, and nutritional supplements.
To Become a Member
Click this link or Nature's Sunshine logo above to visit the site.
Add $40 or more of product to your cart.  (To become a member, you will have to buy $40 in products at member cost.)
Need to increase your order to $40?
Continue to Checkout.
Click the "Sign up" button in the "Become a Member" box during checkout.
Complete the Checkout process.
Membership Benefits 
Save up to 33% off Non-Member price
Get access to promotions and product discounts
Free health education (webinars, local workshops)
Nature's Sunshine Changes (effective February 1, 2021)
No free memberships
If you are an active member, you will now receive 15% off
NSP has lowered the price on a majority of all their products.
If you would like a larger discount, you need to sign up for auto-ship on a monthly basis through NSP.
As a welcome to a first-time client receiving a nutritional evaluation, we will offer a one-time discount of 10% off.
---


Health Naturally is an independent distributor for Young Living. We are dedicated to educating the public about the versatile uses and profound effects essential oils have on the mind and body. Click this link or the Young Living logo to visit the site.
Once on the Young Living site, go here to become a member. Select Member or Retail Customer depending upon which plan you prefer. The "Member" plan requires the purchase of a starter kit with your first order and provides a 24% discount on all products ordered. Members can participate in the essential rewards plan and earn member discounts. 
If you select the Member plan, follow the steps provided.
The Retail Customer plan provides full retail pricing to customers. 

To sign up and purchase as a Retail Customer, shop the

product catalog

and check out via the shopping cart.