Young Living Product Specials
October Product Promos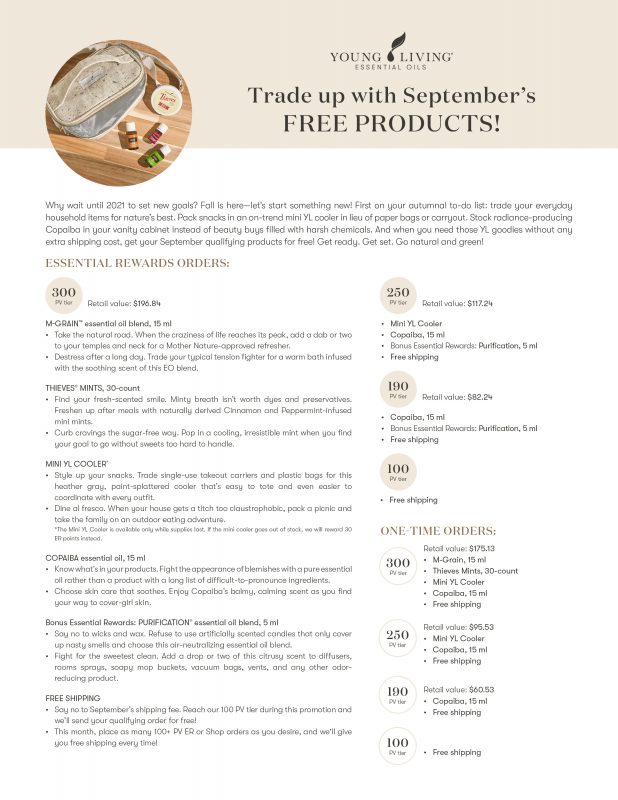 Click above graphic to enlarge
YOUNG LIVING MUG*
• Empower financial well-being. In collaboration with the Young Living Foundation, each mug is handcrafted from natural, locally mined clay by women artisans in Vietnam. Your order helps these artisans break the cycle of poverty, find financial stability, and provide for loved ones.
• Sip on something sweet and healthy. Infuse your tea or homemade apple cider with Vitality oils and savor the pure flavor in this beautiful blue and gray mug.
*The Young Living mug is available only while supplies last. If the mug goes out of stock, we will reward 30 ER points instead.
SPICED TURMERIC HERBAL TEA, 15 ct.
• Enjoy a hot cup of goodness. Treat yourself to our exquisite evening tea filled with organic ingredients and warm, familiar spice.
• Brew a little sereni-tea. After a long, trying day, press pause to carve out some mindful tea time and quiet mental chatter.
INNER DEFENSE, 30 ct.
• Start a wellness routine. Fall is the perfect time to turn over a new leaf, so support a healthy immune system all month long with a 30-day supply of Inner Defense.**
• Rake in the health benefits. Up your daily dose to 3–5 softgels or combine the healthy immune-supporting power of Inner Defense with our probiotic powerhouse Life 9®.
AROMAEASE essential oil blend, 5 ml
• Treat your tummy to some TLC. Had one too many pumpkin spice treats? Apply equal parts AromaEase and V-6™ onto your stomach and rub it into your skin for a soothing aromatic experience.
• Respect your limits. When you need a break from a demanding day, diffuse AromaEase while you take a few deep, deliberate breaths and shake out your neck and shoulders.
Bonus Essential Rewards: RAVINTSARA essential oil, 5 ml
• Find your center. Cue your mind that it's time to meditate with a Ravintsara diffuser blend that you use only during your practice. Try 2 drops each of Ravintsara, Peppermint, Spearmint, and Copaiba.
• Look after your skin. Add Ravintsara to your face wash or toner for an extra boost of skin-cleansing properties.
---
Refresh Your Home Bundle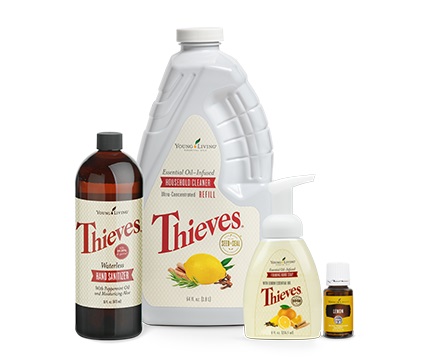 If you're spending more time inside than out, it's time to hit "refresh" on your home with the help of our favorite essential oil and oil-infused products. Their naturally derived ingredients and bright, crisp scents will spruce up any space, big or small.
This bundle includes:
Thieves® Hand Sanitizer, 16 oz
Lemon Essential Oil, 15 ml
Thieves Household Cleaner, 64 oz
Thieves Hand Soap, single
---
Refuel Your Life Bundle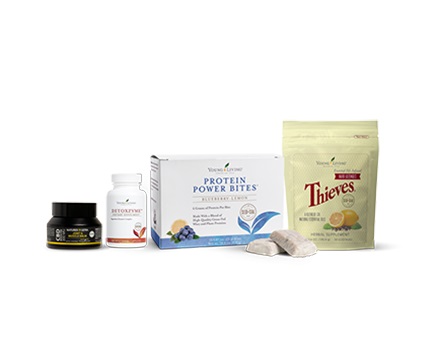 Self-care is a must, but it can get tricky when life gets messy. Renew that commitment to a healthier, happier you by refueling mind and body with the best self-care must-haves.
This bundle includes:
Protein Power Bites
CBD Muscle Rub, 300 mg
Detoxzyme®
Thieves Hard Lozenges
---
All the newest product offerings from Young Living. Come find your next favorite product!
Take advantage of select essential oils and essential oil-infused products at special pricing you're going to love.
We're regularly updating our product offerings to fit your seasonal needs, making this your shop for finding the perfect gifts and treats.