Daily Prebiotic Fiber™ Powder
Good fibes only™
Sip your way to gut health with Daily Prebiotic Fiber powder! Our plant-based formula supports a healthy gut microbiome, digestive system, and immune system.*
About
Boosting your fiber intake doesn't have to be complicated. One scoop of our Daily Prebiotic Fiber supplement serves up 6 grams of plant-based prebiotic fiber from agave, partially hydrolyzed guar gum, and prickly pear cactus extract. Naturally flavored with passionfruit powder, it's the quickest and tastiest way to support your digestive health.*
Another reason you'll love it? Unlike other prebiotic supplements, it dissolves into juice or water with minimal clumping and keeps you feeling full longer. Cheers to smooth sipping, better bowel movements, and a happy, healthy gut!*
Features and Benefits
Contains 6 grams of plant-based prebiotic fiber
Aids in the body's natural detoxification process*
Helps maintain a healthy gut microbiome*
Easy on the stomach and well tolerated by those with digestion sensitivity*
Promotes healthy postbiotics in the gut*
Helps build beneficial gut bacteria*
Contains D. Gary Young's original essential oil blend of Fennel, Anise, Tarragon, Ginger, Lemongrass, and Rosemary essential oils
Helps you feel full longer*
Supports cardiovascular and immune health*
Suggested Uses
Mix 1 scoop in 8 ounces of water, juice, or our NingXia Red® drink once daily.
Take in the morning 30 minutes before meals on an empty stomach.
Pair with our NingXia Greens™ powder for a one-two punch of gut and overall health support.*
---
New Essential Oil Blends
Discover inviting blends that encourage you to pursue your purpose!
Original Valor® essential oil blend
The original Valor® essential oil blend with Rosewood oil is back with a new label to celebrate its return.
ABOUT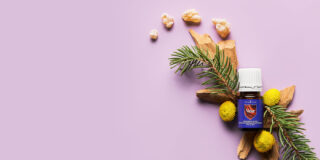 Originally formulated by Young Living Founder D. Gary Young, Valor blend is a long-standing member favorite. Its one-of-a-kind formula was inspired by historical writings about Roman soldiers who were said to apply plant extracts and botanicals to inspire courage and confidence before going into battle.
Each Young Living essential oil in the blend was carefully selected for its unique aromatic and topical benefits: Frankincense for its uplifting, earthy aroma and skin-loving properties; Black Spruce for its grounded, woodsy aroma; Blue Tansy for its inspiring aromatic profile; and now Rosewood for its soothing and relaxing aroma. This powerful, synergistic blend with a transformative aroma has contributed to its strong legacy as a key part of Young Living's proprietary Raindrop Technique® bodywork.
FEATURES & BENEFITS
Features a balancing and aligning aroma
Contains Rosewood essential oil, which creates a calming environment when used topically or aromatically
Helps you maintain a grounded atmosphere for yoga and meditation
May enhance the appearance of healthy-looking skin
Makes massage feel even more rejuvenating with its comforting scent
---
Ignite Your Journey ™ essential oil blend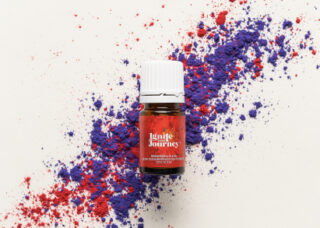 Fuel your inner fire! Reach for the energizing aroma of Ignite Your Journey essential oil blend as you work to reignite your life's passion and purpose.
ABOUT
Created by D. Gary Young in 1992, this blend contains eight essential oils chosen for their invigorating aromas. Let the scents of Juniper, Peppermint, Frankincense, Ginger, and other Young Living® oils wake up your senses while you go for your goals. There's no telling what you'll achieve when you set your mind to it with Ignite Your Journey blend as your sidekick.
SUGGESTED USES
Diffuse this aroma while you work to ignite a sense of action and forward thinking.
Dilute with a carrier oil and rub it onto the arches of your feet as a reminder to move boldly through your life's journey.
Add to a roller bottle with a carrier oil and apply to wrists for a revitalizing, pick-me-up scent.
---
All the newest product offerings from Young Living. Come find your next favorite product!
Take advantage of select essential oils and essential oil-infused products at special pricing you're going to love.
We're regularly updating our product offerings to fit your seasonal needs, making this your shop for finding the perfect gifts and treats.