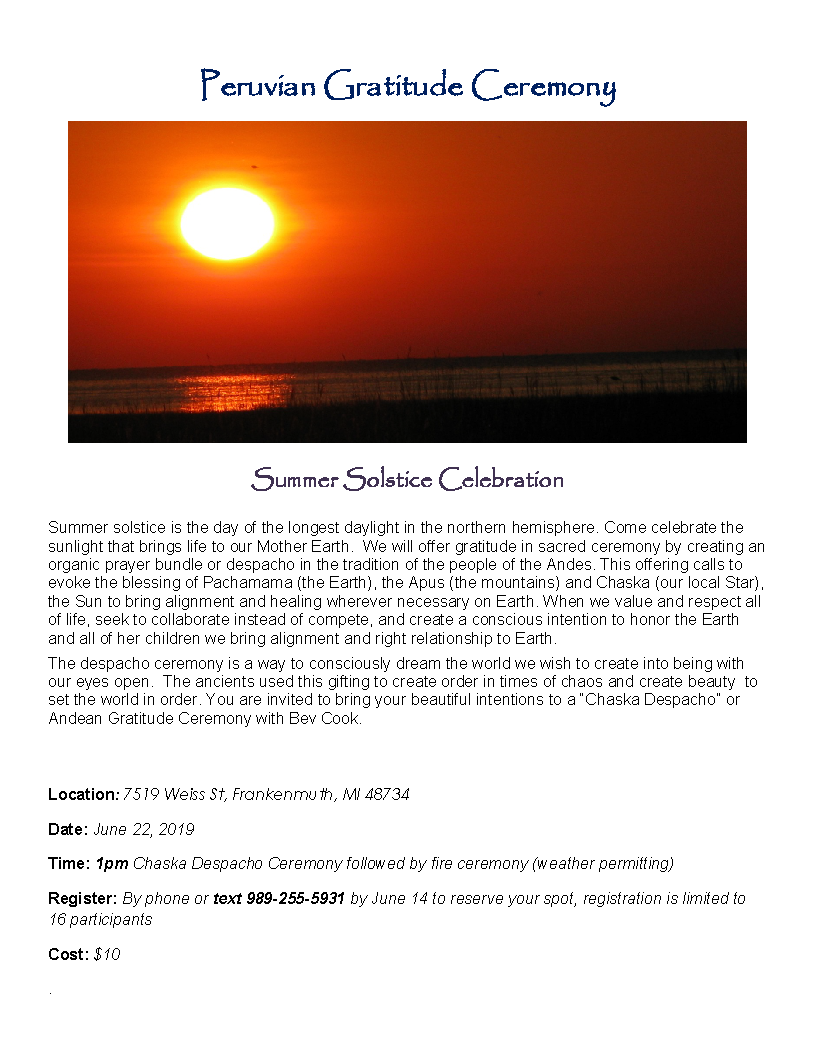 Summer Solstice Celebration
Date/Time
Date(s) - 06/22/2019
1:00 pm
Location
Frankenmuth classes
Categories
Dear Friends,
At last summer, ahhh! This season we will be appealing to the Sun for assistance to bring healing to our Earth. So much chaos surrounds us and the Earth is sustaining irreplaceable losses daily. We will dream the world we want to live in with the assistance of Chaska our local star, the sun.
Come join your beautiful intentions for the world in despacho ceremony and dream of the world where the air is pure, the water is clean, and sunlight is always present. A world where coherent emotions such as peace, clarity, compassion, and joy are foremost in our priorities and our thoughts. 
Summer solstice is the day of the longest daylight in the northern hemisphere. Come celebrate the sunlight that brings life to our Mother Earth.  We will offer gratitude in sacred ceremony by creating an organic prayer bundle or despacho in the tradition of the people of the Andes. This offering calls to evoke the blessing of Pachamama (the Earth), the Apus (the mountains) and Chaska (our local Star), the Sun to bring alignment and healing wherever necessary on Earth. When we value and respect all of life, seek to collaborate instead of compete, and create a conscious intention to honor the Earth and all of her children we bring alignment and right relationship to Earth.
The despacho ceremony is a way to consciously dream the world we wish to create into being with our eyes open.  The ancients used this gifting to create order in times of chaos and create beauty  to set the world in order. You are invited to bring your beautiful intentions to a "Chaska Despacho" or Andean Gratitude Ceremony with Bev Cook.
Register: By phone or text 989-255-5931 by June 14 to reserve your spot, registration is limited to 16 participants
Cost: $10