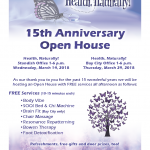 Health, Naturally!
Standish Office 1-6 p.m.
Wednesday, March 14, 2018
As our thank you to you for the past 15 wonderful years we will be hosting an Open House with FREE services all afternoon as follows:
FREE Services (10-15 minutes each)
Body Vibe
SOQI Bed & Chi Machine
Chair Massage
Resonance Repatterning
Bowen Therapy
Foot DetoxificationRefreshments, free gifts and door prizes, too!
Please call 989-584-9701 between 1-5 pm Monday through
Saturday to make your appointment. Happy Anniversary!