February 2020 Promotion
Super Trio (60 packets) $5 Off. Feb 3 – 10
Stock No. P992233
Benefits:
Provides antioxidant support
Promotes vitality and longevity
How It Works:
Each packet of Super Trio offers powerful, effective doses of three potent Nature's Sunshine formulas. Taken together, these proprietary blends offer a nutritious combination of essential fatty acids, vitamins, minerals, and antioxidants—each an important component of daily nutrition, vitality and longevity.
Ingredients:
Super Supplemental Vitamins & Minerals, Super Omega-3 EPA and Super ORAC.
Recommended Use:
Each day take the contents of two packets: take one packet in the morning with breakfast, and one packet in the evening with a meal.
SIGN IN TO YOUR NATURE SUNSHINE ACCOUNT TO MAKE A PURCHASE
---

CardioxLDL™ (60 Caps) $4 Off. Feb 1 – 29
Stock No. P992191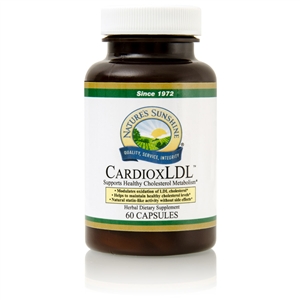 Benefits:
Modulates oxidation of LDL cholesterol
Supports healthy cholesterol levels already within the normal range
Features a powerful, proprietary antioxidant blend
Is a clinically studied, exclusive, patent-pending formula

How It Works:
Support healthy cholesterol levels and cardiovascular function with CardioxLDL. This unique and powerful herbal formula helps to modulate cholesterol oxidation and maintain healthy cholesterol levels. CardioxLDL combines Citrus bergamia Risso extract with a proprietary blend of high-ORAC antioxidants that help support total cholesterol and triglyceride levels already in the normal range. It works in part by blocking an enzyme the liver needs to produce LDL cholesterol. This unique combination of Citrus bergamia fruit extract and antioxidants naturally supports healthy cholesterol and blood sugar levels already in the normal range.

Ingredients:
Bergamot Fruit extract (Citrus bergamia Risso), Turmeric extract, Green Tea extract, Grape Seed extract, Mangosteen Fruit extract.

Recommended Use:
Take 2 capsules with your evening meal.
SIGN IN TO YOUR NATURE SUNSHINE ACCOUNT TO MAKE A PURCHASE
---
Your Next-Level Health and Wellness Opportunity!
Start sharing this exciting new qemp products with others by inviting your group, friends and business leaders to this fantastic webinar.
Register for Webinar
.
---
Health to Home Grows Your Business and Earns You FREE Products
Share powerful health solutions with your neighbors and friends. And grow your business in amazing ways! Help America defend health one home at a time, and you'll earn Sunshine Points for FREE products through January.
---