January 2022 Promotions
Happy New Gut Kit
Save Jan. 1-31.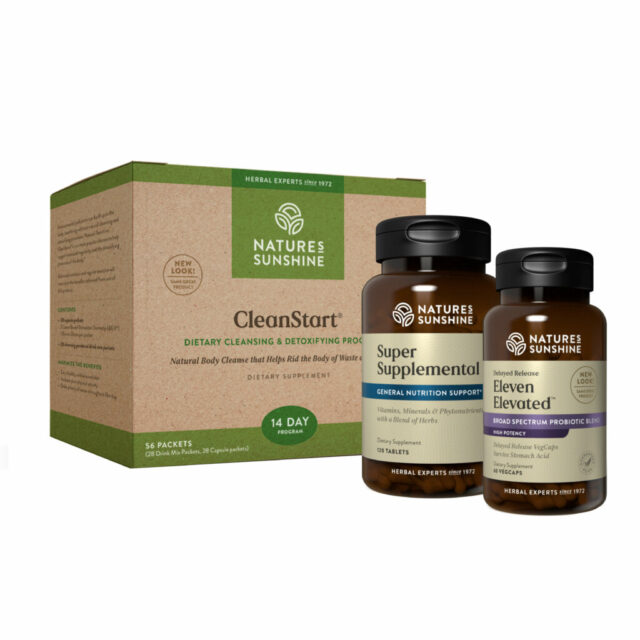 The Happy New Gut Kit includes the following:
CleanStart® Wild Berry Cleanse – 14 Day
Supports the natural, everyday cleansing of waste from the body.
Gently moves intestinal contents through the digestive system.
Helps maintain natural energy levels and promotes a feeling of well-being.
How it Works
Environmental pollutants can build up in the body, slowing natural cleansing and detoxifying processes. CleanStart® is our most popular cleanse to help support the primary detoxifying processes of the body. Use CleanStart to help "jump start" your cleansing and detoxifying program. After using CleanStart, try Detox Basics™ daily detoxifying program for ongoing detoxification support.
Recommended Use
Take the contents of one cleanse drink packet 15–30 minutes before breakfast and again 15–30 minutes before dinner. Take the contents of 1 capsule packet with breakfast and dinner (twice daily). Mix cleanse packet powder in 8 oz. juice or water. Shake, blend or stir vigorously. Drink immediately. Drink an additional glass of water immediately following this. Drink plenty of water throughout the day.
NOTICE: This product contains cascara sagrada, buckthorn and Turkey rhubarb. See your health care provider prior to use if: pregnant or nursing, any medical condition exists, or when taking any medication. Read and follow recommendation carefully. Do not use if diarrhea, loose stools or abdominal pain are present or develop. Use of this product may worsen these conditions and be harmful to your health. Chronic diarrhea can result in serious illness. May cause allergic reaction in persons sensitive to inhaled or ingested psyllium.
Ingredients
Each drink packet contains psyllium hulls, vegetable fiber, natural apple-cinnamon or wild berry (black currant and raspberry) flavor, potassium citrate, aloe vera inner leaf, malic acid, carrot root extract, stevia leaf extract, sodium copper chlorophyllin and hydrated bentonite. Each capsule pack contains 2 capsules of LBS II and 1 capsule of Enviro-Detox.
---
Super Supplemental Vitamin & Mineral
Sometimes you need a little extra help getting the nutrients you need. We've got you covered with Super Supplemental. It's absolutely LOADED with vitamins, minerals, amino acids, herbs, fruit powders and veggie powders, plus lutein, lycopene, inositol, choline and detoxifying chlorophyllin.
23 vitamins and minerals
30+ other nutritional ingredients
Unique chlorophyllin coating
Most of us don't eat well enough to get all the nutrients our bodies need just from food. Super Supplemental fills the gap! It packs vitamins, minerals, amino acids, herbs, fruits, veggies and important antioxidants into one super blend that provides practically unbeatable nutritional support. 
The Story behind Super Supplemental
Many vitamins weren't discovered until the 1920s and 30s. And the first multivitamins were introduced in the US in the late '30s. About 50 years later, and not long after Nature's Sunshine was born, we wanted to offer a multivitamin with MORE. Something truly super! So we took the best vitamins and minerals and added dozens of nutrients and wholesome herbs to create a superior formula: Super Supplemental. And we have worked to keep it super. In 2002, we added lutein and lycopene, two valuable antioxidant nutrients. Lycopene was first discovered in tomatoes in 1876, but the Aztecs and Incas were growing this crop way back in 700 AD. Later on, Europeans visiting North America took these plants home but only for decorating as they believed the red fruit was poisonous. Nowadays we know a great deal more about the health benefits of tomatoes and their valuable lycopene! Our lycopene comes from non-GMO tomatoes that are homegrown in the US from a particular plant breed that yields the best lycopene.
Ingredients
Vitamins A, C, D3, E, thiamin (B1), riboflavin (B2), niacin, vitamin B6, folate, vitamin B12, biotin, pantothenic acid, choline, calcium, iron, phosphorus, iodine, magnesium, zinc, selenium, copper, manganese, chromium, potassium, plus inositol, p-aminobenzoic acid (PABA), fruit blend (white grape, apple, pear, orange, pineapple, cherry, strawberry, blueberry), dandelion root, alfalfa aerial parts, asparagus stem, broccoli flowers, cabbage leaf, hesperidin bioflavonoid extract, lemon bioflavonoid extract, rutin, rose hips, sodium copper chlorophyllin, kelp leaf and stem, lutein, cranberry fruit, mangosteen fruit, carrot root, spinach leaf and stem, tomato fruit, lycopene, açai berry, pomegranate fruit extract, L-leucine, L-lysine, L-valine, L-isoleucine, L-phenylalanine, L-threonine, L-arginine, L-methionine, L-tyrosine, L-cysteine.
Recommended Dosage
Take 4 tablets daily, one with each meal and at bedtime.
---
NutriBiome Eleven Elevated
Probiotics provide a few billion reasons why good health starts in your gut. Our most powerful probiotic blend, Eleven Elevated amps up the probiotic goodness with a super-charged combination of 11 strains of friendly bacteria. This proprietary blend of potent, non-GMO, and dairy-free probiotics support a diverse gut microbiome and help regulate digestive and intestinal function.
Proprietary, research-based formula provides 11 strains of friendly bacteria to support a healthy gut environment
Includes prebiotics that may improve the growth of friendly microorganisms and support bowel health
Our most potent probiotic blend—offering 66% more CFUs than Probiotic Eleven—aids in the digestive process
Features a non-GMO, vegan and soy-free formula
WhyEleven Elevated?
Sometimes more really is more. Eleven Elevated offers our most powerful blend of probiotics with 66% more colony forming units in each serving than Probiotic Eleven. 
Formulated with balance in mind, Eleven Elevated contains a selection of 11 strains of beneficial gut bacteria along with short- and long-chain fructo-oligosaccharides. Also known as prebiotics, these serve as food for the probiotics to help them thrive within your intestines. Studies show that prebiotics may improve the growth of friendly microorganisms, enhance mineral absorption, support bowel health and function, and promote digestive function.
The Story Behind Eleven Elevated
Bifidobacterium were first isolated in the feces of breast-fed infants in 1899, and since their discovery, the benefits of probiotics have been well established. While the discovery and naming of individual probiotic strains is fairly new, the concept of eating fermented food goes WAY back. Around 500 A.D., Koreans began burying jars of cabbage, cucumber or radishes mixed with strong spices. Known as kimchi, this fermented food is one of many that offers health benefits for the immune system. They may not have known about probiotics then, but they did recognize the benefits these foods gave. Fermented foods have grown in popularity with our understanding of the importance of probiotics. But for some of us, capsules are much easier to swallow than kimchi, sauerkraut and fermented drinks. A unique combination of healthful probiotics that help nourish and strengthen the resident friendly flora of the gut microbiome, Eleven Elevated was designed to powerfully support the healthy balance of microorganisms in the gut.
Ingredients
Lactobacillus rhamnosus, Bifidobacterium bifidum, L. acidophilus, L. brevis, L. bulgaricus, L. plantarum, Streptococcus thermophilus, B. infantis, B. longum, L. casei, L. salivarius .
Recommended Usage
Take 2 capsules daily with a meal. Keep refrigerated or frozen.
---
Promotions: Check back weekly to see which of your favorite products are on promotion. From Free Shipping to Free Product there is something for everyone.
---
Elderberry D3fense
30 Day Supply | 90 Servings
30% off
Less sun means less vitamin D. And that leads to a weaker immune system. You don't have time for that! Strengthen your immune system with Elderberry D3fense, our exclusive blend of vitamin D and immune-boosting elderberry, echinacea, olive leaf and royal jelly. Because you deserve the best.
Supports the immune system
Daily maintenance formula
250% Daily Value of Vitamin D3
Why 

Our

 

Elderberry D3fense?
Elderberry D3fense is a unique and powerful combination of renowned heavy hitters with a long history of immune system support. Elderberry is known worldwide for its ability to strengthen the immune system. Vitamin D3 supports both the innate and adaptive immune branches. Echinacea safely supports immune health with specific antioxidants. And royal jelly offers its own health benefits.  
And Nature's Sunshine's Vitamin D3 vendor provides a super-clean nutrient. Our D3 is proudly allergen-free, vegan and non-GMO. 
Key Ingredients
Components of this blend have been cherished for ages…literally. During the Middle Ages, elderberry was considered a Holy Tree. People revered its capacity to "restore good health" and aid longevity. Indigenous people in North America also valued the elderberry for its many benefits. Its berries and flowers were used for medicine and dyes, while the larger stems were fashioned into whistles, flutes and clapper sticks. This would explain one of its nicknames, Tree of Music. Elderberry was also highly prized by the Cahuilla Indians of Southern California, who harvested the fruit in summer months then dried and cooked it into a rich sauce. Elderberry naturally contains vitamin C. It also possesses the alkaloids hydrocyanic acid and sambucine. Pro tip: Cook the fruit to degrade these compounds or you might feel sick. Once processed, it's a boon for your immune system. Put up a strong defense. Elderberry D3fense…only from Nature's Sunshine.
Ingredients
2,000 IU vitamin D3, elderberry fruit extract, echinacea aerial parts, willow bark extract, royal jelly and olive leaf extract.
Recommended Usage
Take 1 capsule with a meal three times daily.
---
Promotions: Check back weekly to see which of your favorite products are on promotion. From Free Shipping to Free Product there is something for everyone.
---
Nature's healing power brings health, happiness, and fulfillment, and sharing this with others is truly a gift.

Nature's Sunshine Knows Herbs, and it Shows
Nature Holds the Answers, We Bottle Them.
Nature's Sunshine changed the world as the first company to put herbs into easy-to-take capsules. For almost 50 years we've brought the healing power of herbs to millions of people across America, and with over 600 products, we have something for everyone, starting with you.
Delivering the results you expect is a strenuous process. But we wouldn't have it any other way. We travel the world seeking the earth's most pure and potent ingredients and use more than 600 tests to ensure each one of our herbal formulas is ready to do exactly what it's supposed to do.
---
Quick access to all product descriptions.