May 2020 Promotion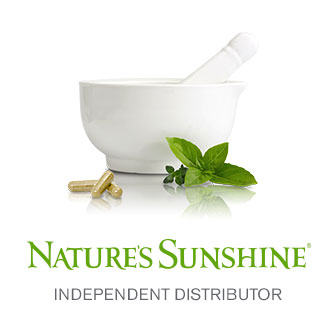 Quick access to all product descriptions.
---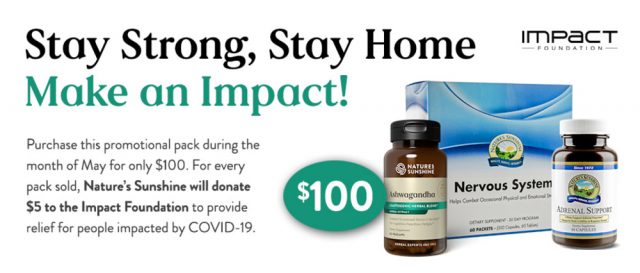 SIGN IN TO YOUR NATURE SUNSHINE ACCOUNT TO MAKE A PURCHASE
---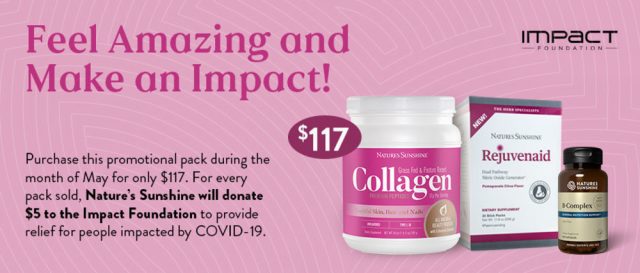 SIGN IN TO YOUR NATURE SUNSHINE ACCOUNT TO MAKE A PURCHASE
---

Ashwagandha
Stock Number: 22385

Benefits:

–Mind–
Supports and helps stabilize the stress response
Helps improve resistance towards stress and occasional anxiety
Helps sharpen the mind-body connection
Is traditionally used to support mental health and improve memory
Support Well-Being
Helps support cognitive performance in aging
–Body–
Supports physical performance, endurance, and wellness
Is traditionally used to support adrenal function and decrease physical fatigue
Supports the immune and nervous systems
Supports muscle strength in combination with resistance training

How It Works:

Ashwagandha herbal blend utilizes natural, adaptogenic, plant-based ingredients that are scientifically shown to help improve the central nervous system, which is constantly impacted by emotional and environmental stressors. Adaptogens and their benefits are linked to the hypothalamus-pituitary-adrenal (HPA) axis. Together these three help the body react to repeated stress and support a healthy mind-body connection. In addition, ashwagandha helps combat stress and anxiety by promoting homeostasis and general well-being. Clinical studies show that it helps improve stress response as it lowers cortisol levels, reducing anxiety. Studies also show that ashwagandha supports physical endurance by improving VO2 max. It has also been shown to support cognition and memory. Withanolides, the active constituents in ashwagandha, are responsible for their biological activities. Watch Ashwagandha Video | Factsheet (PDF)

Ingredients:

Ashwagandha root extract (standardized to 5% withanolides), bacopa leaf extract, black pepper fruit extract, Schisandra fruit, and Rhodiola fruit extract. Certified non-GMO, Vegan, and gluten-free.

Recommended Use:

Take 2 Vegcaps daily.
SIGN IN TO YOUR NATURE SUNSHINE ACCOUNT TO MAKE A PURCHASE
---

My-Immune Defense
Stock No. 22470
Benefits:
Supports the immune system
Supports physical endurance
Provides anti-fatigue support
Provides antioxidant support
Provides naturally occurring Vitamin D—essential to an active, healthy immune system
How It Works:
Fortify Your Immune System
Stress-induced immune system dysfunction can significantly impact health. But key nutrients with immune-modulating benefits provide excellent support. Mushrooms have been used medicinally for centuries, and their health benefits are recognized in preclinical and clinical studies. They have the ability to modulate the immune system, mainly due to the polysaccharides (β-glucans) found in their cell walls. MY-Immune Defense is designed exclusively with natural sources of beta-glucans and vitamin D for superior antioxidant and immunological benefits.
The human immune system has a first-line of defense (the innate immune system) and a secondary, more specific defense (the adaptive immune system). Mushroom polysaccharides (beta-glucans) have been shown to stimulate BOTH of these systems, leading to immune cell activation and the production of messengers that positively regulate BOTH the innate and adaptive immune system branches. Watch My-Immune Defense Video | Factsheet
Ingredients:
Reishi, Turkey tail, Chaga, and Shiitake mushrooms have the ability to stimulate immune cells by means of their beta-glucans, and they support a healthy immune response.
Cordyceps has been widely used for its anti-fatigue properties. Studies show that taking cordyceps supports physical endurance and improves the metabolic threshold.
White button (Agaricus) mushroom is a nutrient-rich, vegetarian- friendly source of Vitamin D2, which supports calcium homeostasis and innate immune response (first line of defense).
Cordyceps, Reishi, Turkey tail, Chaga, Shiitake, and Agaricus mushrooms. All ingredients (mycelia and/or fruit body) are organic, non-GMO, vegan, gluten-free, and kosher.
Recommended Use:
Mix one scoop (3 g) of MY-Immune Defense into your favorite smoothie, juice, or recipe for a nourishing boost of organic mushroom goodness! Use daily for best results.
---