Young Living Product Specials

May 2018 Promotions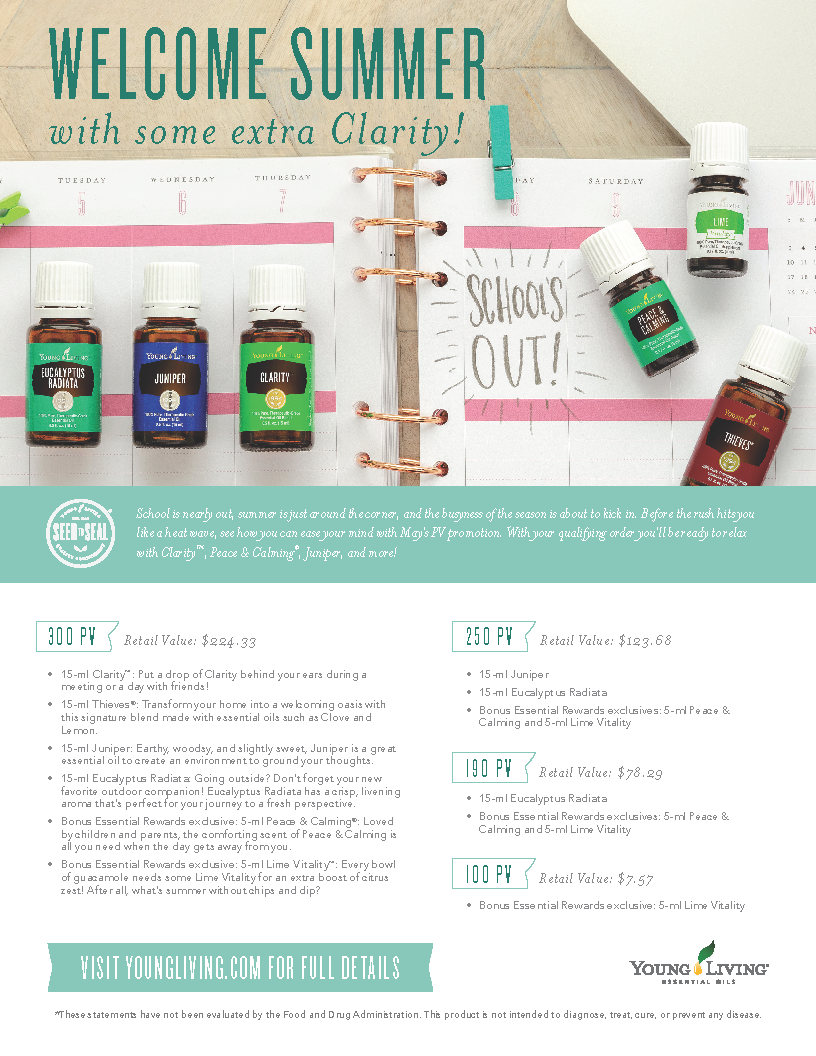 School is nearly out, summer is just around the corner, and the busyness of the season is about to kick in. Before the rush hits you like a heat wave, see how you can ease your mind with May's PV promotion. With your qualifying order you'll be ready to relax with Clarity™, Peace & Calming®, Juniper, and more!
300 PV Retail Value: $224.33
15-ml Clarity™: Put a drop of Clarity behind your ears during a meeting or a day with friends!
• 15-ml Thieves®: Transform your home into a welcoming oasis with this signature blend made with essential oils such as Clove and Lemon.
• 15-ml Juniper: Earthy, woodsy, and slightly sweet, Juniper is a great essential oil to create an environment to ground your thoughts.
• 15-ml Eucalyptus Radiata: Going outside? Don't forget your new favorite outdoor companion! Eucalyptus Radiata has a crisp, livening aroma that's perfect for your journey to a fresh perspective.
• Bonus Essential Rewards exclusive: 5-ml Peace & Calming®: Loved by children and parents, the comforting scent of Peace & Calming is all you need when the day gets away from you.
• Bonus Essential Rewards exclusive: 5-ml Lime Vitality™: Every bowl of guacamole needs some Lime Vitality for an extra boost of citrus zest! After all, what's summer without chips and dip?
250 PV Retail Value: $123.68
• 15-ml Juniper
• 15-ml Eucalyptus Radiata
• Bonus Essential Rewards exclusives: 5-ml Peace & Calming and 5-ml Lime Vitality
190 PV Retail Value: $78.29
• 15-ml Eucalyptus Radiata
• Bonus Essential Rewards exclusives: 5-ml Peace & Calming and 5-ml Lime Vitality
100 PV Retail Value: $7.57
• Bonus Essential Rewards exclusive: 5-ml Lime Vitality